We're Getting Mutants in the MCU - The Loop
Play Sound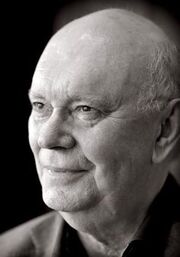 Sir Alan Ayckbourn CBE (born 12 April 1939) is a prolific English playwright. He has written and produced more than seventy full-length plays, most of which have been produced in the West End. The recipient of the Tony and the Olivier Award, Ayckbourn is one of the world's most successful and well-known playwrights.
Though he never wrote an original radio play, many of his stage plays have been adapted for radio.
From 1965-1970, he worked as a radio drama producer for the BBC, serving under the influential Alfred Bradley. During this time, he produced many radio plays and oversaw scripts for many more.
Biography and Theatre Career
Career in Radio
After the London production of his theatre play Mr Whatnot flopped, Ayckbourn feared that he would not write for the stage again. A phone call to his agent happened to occur at the same time as she was talking to fellow client Alfred Bradley, who suggested applying for a job at BBC Radio in Leeds.
Ayckbourn was hired in 1965, at £38 per week. Based in the BBC's Woodhouse Lane Studios in Leeds, his job consisted of acting as script editor, sorting through the voluminous amount of submitted scripts. The number of submissions having drastically increased as a result of Bradley's enthusiastic encouragement of young writers. Ayckbourn also began producing radio plays; he produced 50 his first year, including three early plays by Don Haworth, though never wrote any radio plays himself during this time. Ayckbourn left the BBC on 23 June 1970, resuming his career in the theatre.  His replacement at BBC Radio was producer Tony Cliff.
His years with the BBC and working with Bradley greatly influenced Ayckbourn, who later called Bradley "one of my guardian uncles." The importance of speed and economy, the relationship between producers and writers, and the task of script editing so many plays taught Ayckbourn much in terms of writing and directing[1][2].
List of radio plays produced by Alan Ayckbourn
Radio Adaptations
The popularity of Ayckbourn's theatre plays have made them frequent candidates for radio adaptation, though they were written first for the stage and adapted for radio by others. Frequent radio producers of his work include Kay Patrick, Gordon House, and Polly Thomas.
Relatively Speaking (1975)
Absurd Person Singular (1977)

Absent Friends

(1977), (2004)

Confusions

(1979), (1985)

Joking Apart

(1981), (1990)

Just Between Ourselves

(1983), (2008)

Season's Greetings

(1985), (1999)
Intimate Exchanges (1987),

The Norman Conquests

(1990)

Man of the Moment

(1992), (2009)

The Revengers' Comedies

(1996)

By Jeeves

(1996)

Way Upstream

(1997)

Things We Do For Love

()

Woman in Mind

(2005)

Events on a Hotel Terrace

(2006)

Whenever

(2006)

A Small Family Business

(2009)
External Links
References