Alick Rowe
(1939 - 30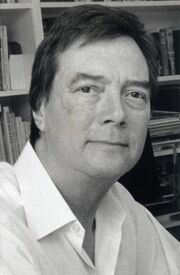 October 2009) was a British writer, most known for his work in radio and television.
Biography
Edit
Raised in Hereford , Rowe attended the Hereford Cathedral School, and later studied at St. Catherine's College, Cambridge. He returned to Hereford in the 1960's as a teacher. He began writing in his spare time, and eventually became a full time writer. He wrote extensively for radio and for television, winning a BAFTA in 1992. He also wrote several books.
In 1999, he plead guilty to child indecency charges and was jailed for twelve months. He later moved to Chiang Mai, Thailand, where he died on 30 October 2009, of a suspected heart attack[1].
Career in Radio
Edit
Rowe's first play, The Georgian Rake was broadcast in 1962, followed by The Great Balloon Debate in 1970. He wrote many plays and several adaptations, but was most famous for his comedies, including Crisp and Even Brightly, which won a Sony Award in 1987[2].
Radio Plays
Edit
References
Edit
External links
Edit