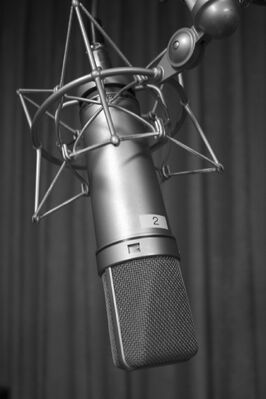 Welcome to the Audio Drama Wiki. This is a collaborative community effort to create a database about audio drama. The aim is to catalog audio plays, serials, and series, as well as the writers, directors, cast, and crew members who create them.
We love audio drama. But there is no central repository for knowledge and information on the subject. We feel that a collective effort can best achieve such a resource, and in doing so promote knowledge and appreciation of this unique and expressive medium.
Contents

You may be able to help! Check out our list of incomplete articles.
Other Resources
Guidelines
We welcome all information about all audio drama. Cast and crew, plot synopsis, air dates, published critiques, etc. But please refrain from incorporating your personal opinions in the text of articles. Use the comment section instead to discuss you views, or put a link to a personal review in the "external links" section of the article. It's important to maintain an objective viewpoint.
Anyone can edit the listings here. Click the edit button at the top of any page to get started!
For press inquiries or more information, please contact: modernsoundling at gmail dot com.
Latest activity