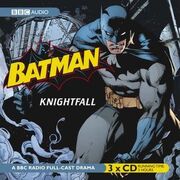 In 1994, BBC Radio 1 broadcast Batman: Knightfall, an audio drama adaptation of the DC Comics story lines Knightfall, Knightquest and Knight's End. It was adapted, produced and directed by Dirk Maggs, with music composed by Mark Russell, who had recently made Superman: Doomsday and Beyond on BBC Radio 5. This show, however was not commissioned of its own, but rather to be three minute episodes on the Mark Goodier Show. This meant it was written with a sense of immediacy; having to make an instant effect and each three minute segment contains a major plot development or sound effect stunt and end on a cliffhanger. All tolled, the serial ran 65 three-minute episodes, totaling 195 minutes of running time.
"Knightfall" was a sequel to Batman: The Lazarus Syndrome also produced for BBC radio by Dirk Maggs.
External Links
Edit
Community content is available under
CC-BY-SA
unless otherwise noted.