We're Getting Mutants in the MCU - The Loop
Play Sound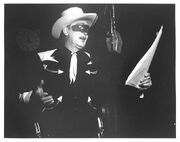 Brace Beemer (December 9, 1902 – March 1, 1965) was an American radio actor and announcer at radio station WXYZ, Detroit, Michigan.
Born in Mount Carmel, Illinois, Beemer was six foot, three inches tall and was an expert horse rider. He served as the deep-voiced announcer for The Lone Ranger soon after its first broadcast in 1933. Beemer also appeared as the Ranger in public appearances because station owner George W. Trendle felt that Earle Graser, the actor who played the part on the radio, did not look right for the part.
The son of WXYZ staffer Erskine Campbell recalled:
"Brace Beemer was voice of Lone Ranger as early as 1938 because my father, Erskine Campbell, worked for him at WXYZ in Detroit that year, as a continuity writer and a sound-effects man, also ran a farm Beemer owned outside nearby Pontiac, Michigan. My sister and I, pupils in a one-room elementary schoolhouse outside Pontiac, often visited our father and "Uncle" Brace while they did the show." In 1941, Graser was killed in a car accident, and Beemer took over as the voice of The Lone Ranger from 1941 to the last new episode on September 3, 1954. During the 13 years that Beemer played the title character, he was required by contract to restrict his radio acting to that one role until the program left the air.
The experienced and popular Western film actor, Clayton Moore, was chosen to take over the role for the television series. Although Beemer had the right voice and had made many public appearances as the Ranger, he had no experience as a film actor, as he preferred live action to television. However, Beemer's voice as the character was so familiar that Moore imitated his sound in the earliest TV episodes.
Beemer also portrayed "Sergeant William Preston" of the Yukon on Challenge of the Yukon, for a brief time after the Lone Ranger series ended. He died in 1965 and was buried in Troy, Michigan.
Going by the name of Justice "Cowboy" Colt, Beemer's son hosted cowboy films for children on local television in Detroit in the 1950s.
Beemer later resided in Lake Orion and Oxford, Michigan.
One of Beemer's last TV appearances, was an interview with former film actor, Bill Kennedy on his "At the Movies" show on CKLW TV 9 from Windsor, Ont., Canada
At the time of his death, he was using his famous "Lone Ranger" voice on automobile commercials running on radio stations.
Audio Drama Works