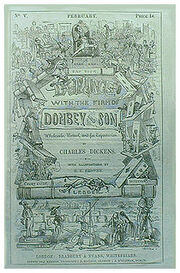 Dombey & Son by Charles Dickens
Dramatized by Mike Walker
Directed by Jeremy Mortimer and Jessica Dromgoole
Music by Nicolai Abrahamsen
BBC Radio 4 - Womans Hour Drama
20 x 15mins episodes broadcast from 19.11.2007 to 14.12.2007
Charles Dickens's classic tale of family relationships.
Episodes
Episode 01 20071119 At last Mrs Dombey bears her husband a son.
Episode 02 20071120 Young Florence Dombey falls into the clutches of Good Mrs Brown.
Episode 03 20071121 Sent to Brighton for his health, Paul learns the value of money.
Episode 04 20071122 The heavy duty of learning at Doctor Blimber's Academy.
Episode 05 20071123 The dark and unknown sea that rolls around the world.
Episode 06 20071126 Dombey is in deep mourning for his son.
Episode 07 20071127 A trip to Leamington brings Dombey into the circle of the formidable Mrs Skewton.
Episode 08 20071128 Captain Cuttle seeks news of young Walter Gay, missing at sea.
Episode 09 20071129 Cold, disdainful Edith wins the hearts of Dombey and his manager.
Episode 10 20071130 Florence meets her new mama and something stirs in Edith's cold heart.
Episode 11 20071203 Harriet Carker tries to appeal to her brother's better nature.
Episode 12 20071204 The Dombeys return from their honeymoon and embark upon a frosty married life.
Episode 13 20071205 Edith Dombey tries to reason with her husband.
Episode 14 20071206 Dombey engages Carker to act as intermediary with his wife.
Episode 15 20071207 Edith is driven to extreme measures by Dombey's attempts to control her.
Episode 16 20071210 Cast out of her home, who can Florence turn to?
Episode 17 20071211 As Florence is reunited with her old friend, Rob the Grinder spills the beans about his missing master.
Episode 18 20071212 Walter Gay plucks up the courage to tell Florence what she means to him.
Episode 19 20071213 Mr Carker has an appointment with fate.
Episode 20 20071214 As Florence and Walter embark on a new life in the Far East, Dombey reaches the limits of his despair.
Cast
Charles Dickens....

Alex Jennings

Dombey....

Robert Glenister

Edith....

Helen Schlesinger

Florence....

Abigail Hollick

Captain Cuttle....

Trevor Peacock

Dr Blimber....

Robin Soans

Dr Peps....

Karl Johnson

Feenix....

Bertie Carvel

Mr Carker....

Adrian Lukis

Major....

Nicky Henson

Mrs Pipchin....

Flaminia Cinque

Walter....

Joseph Arkley

Mrs Brown....

Geraldine James

Mrs Skewton....

Fenella Fielding

Alice....

Claire Rushbrook

Susan....

Nadine Marshall

Toots....

Sam Pamphilon

Harriet....

Katy Cavanagh

Rob....

Lloyd Thomas

Paul....

Jacob Theato

Polly Toodles....

Pam Ferris

Toodles....

Ben Crowe

Walter....

Joseph Arkley

Young Florence....

Eliza Darby

Young Walter....Jordan Clarke
Other parts played by
Ben Crowe

Alex Lanipekun

Peter Marinker

Lloyd Thomas
Critical Reception
References