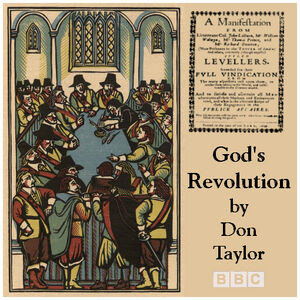 God's Revolution
is a twelve part radio serial by
Don Taylor
. It was first broadcast on
BBC Radio
from 07 October to 23 December 1988. The running time for each episode is 60 minutes
[1]
.
Docu-drama about the events before and after the death of Charles I, particularly the Levellers' insurrection.
There was a remarkable moment in English history when for a few brief years all things seemed possible.
The power of the king was set aside and for a moment the ordinary people of England seemed to hold their
future in their own hands. With Charles 1st dispossessed it was uncertain whether control would move to
Parliament or the people themselves as Cromwell's New Model Army showed signs of relishing its new freedoms.
Episode 1 The Fruits of Victory - 1647 - unrest mounts as the Presbyterian government decides to disband the army.
Episode 2 The Soldiers' Voice - Parliament gets tough on army dissenters - but how will Cromwell react?
Episode 3 Insurrection - Provoked by Parliament - the resolute army aim to get higher ranks on their side.
Episode 4 Summer Manoeuvres - A spontaneous revolution in army ranks sees troops heading towards London.
Episode 5 The Power of the Sword - The Model Army easily reaches London, but with sinking confidence in Cromwell.
Episode 6 Discussions at Putney - The Model Army attempt to bring Cromwell round to their way of thinking.
Episode 7 The Logic of Events - Major Francis White seeks peace with his father before heading into battle.
Episode 8 The Disciplines of the War - Reynolds and Church see some unexpected faces in the midst of battle.
Episode 9 The Man of Blood - Opposition mounts against the King - but is there enough support to depose him?
Episode 10 England's New Chains - Will the execution of King Charles I bring the army its longed for freedom?
Episode 11 The Sea-Green Banner - The soldiers' discontent with their leaders rises - and London women get marching.
Episode 12 For the Agreement of the People - 1649 - Cromwell is determined to foil the soldiers' rebellion.

Episode List
Edit
| Episode | Title | First broadcast |
| --- | --- | --- |
| 1 | The Fruits of Victory | 07 October 1988 |
| 2 | The Soldiers' Voice | 14 October 1988 |
| 3 | Insurrection | 21 October 1988 |
| 4 | Summer Manoeuvres | 28 October 1988 |
| 5 | The Power of the Sword | 04 November 1988 |
| 6 | Discussions at Putney | 11 November 1988 |
| 7 | The Logic of Events | 18 November 1988 |
| 8 | The Disciplines of the War | 25 November 1988 |
| 9 | The Man of Blood | 02 December 1988 |
| 10 | England's New Chains | 09 December 1988 |
| 11 | The Sea-green Banner | 16 December 1988 |
| 12 | For the Agreement of the People | 23 December 1988 |
Directed by Shaun MacLoughlin and Ronald Mason
Critical Reception
Edit
References
Edit
↑ http://www.suttonelms.org.uk/DT.HTML Diversity Website