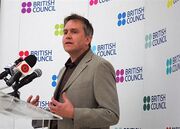 John Dryden
is an award-winning British writer and radio producer, known for his literary dramatizations and for his unique production style, which often incorporates layered sound effects and location recordings.
Biography
Edit
Radio Career
Edit
Dryden's productions include A Suitable Boy, recorded in India (Production and Drama awards at the 2002 Spoken Word Publishing Awards. Short-listed in the audio category of the 2003 British Book Awards):
Bleak House, (Sony Radio Awards 1999 – Winner: Best Drama. Talkie Awards 1999 – Winner: Best Dramatisation – Winner: Best Classic Abridgement):
Fatherland (Spoken Word Publishing Awards 2004 – Winner: Best Drama); The Handmaid's Tale, based on the novel by Margaret Atwood (Spoken Word Publishing Awards 2002 – Nominated: Best Production);
Talk To Sleep (Sony Radio Awards 2000 - Nominated: Comedy)
Hotel Europa (Prix Europa 2002 - nominated)
He also produced for Radio 4 the semi-improvised, fast-turnover news-based drama series Election Lives and The Hong Kong Holding Company. Recent productions for Radio 4 include radio dramatisations of Amitav Ghosh's The Shadow Lines and Boris Akunin's Murder on the Leviathan, as well as several documentaries.
He has recently returned to the UK after two years as Head of Drama and Light Entertainment for Radio New Zealand.
Radio Plays by John Dryden
Edit
Radio Plays Produced/Directed
Edit
References
Edit
External Links
Edit
Community content is available under
CC-BY-SA
unless otherwise noted.