We're Getting Mutants in the MCU - The Loop
Play Sound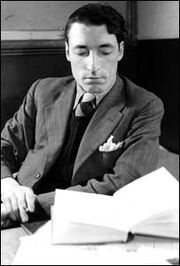 Frederick Louis MacNeice CBE (12 September 1907 – 3 September 1963) was an Irish poet and playwright, who also wrote extensively for BBC radio. Some of his most famous works such as Christopher Columbus and The Dark Tower were originally written for radio.
Biography
Radio Career
MacNiece worked for the BBC for 20 years, beginning in 1941. After having worked as a lecturer at several colleges, MacNeice was an established poet when World War II began. Wanting to be part of the war effort, MacNeice thought of joining the Royal Navy, but was unable to because of his eyesight. Instead, he joined the BBC Features Department on 26 May, 1941. On 09 December 1941, the BBC broadcast his first radio play, Alexander Nevsky, based on the film by Sergei Eisenstein.
As a writer and later producer for the Features Department, he wrote over 70 programmes. Features, which are nonfiction radio works that use dramatic devices to convey information, allowed MacNeice to gain understanding and insight into the nature of the radio medium. Although he did not invent the format, he was instrumental in its early development, even as he pursued his interest in pure fictional drama.
In 1942, the BBC broadcast MacNeice's Christopher Columbus, which was his first original radio play. The Dark Tower followed in 1946. It was quickly published following a successful broadcast, and is often considered his masterpiece. It remains a classic within the medium. He continued to write radio plays in a variety of different genres, eventually producing most of his plays himself. In 1954, he was awarded the RAI Prix Italia award for his play Prisoner's Progress.
During production of his final radio play, MacNeice traveled to Yorkshire to research sound effects in a famous cave. He contracted pneumonia shortly thereafter. Persons from Porlock was broadcast 30 August 1963. Louis MacNeice died a few days later, on 03 September 1963.[1][2].
In 2003, MacNeice became a character in a radio play by Paul Farley. When Louis Met George dramatizes a conversation between MacNeice and George Orwell.
Radio Plays
References
↑ Drakakis, John (editor). British Radio Drama. Cambridge University Press 1981.
External Links