The Sandman Will Keep You Awake - The Loop
Play Sound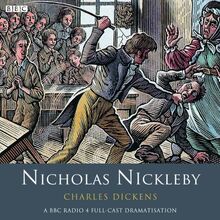 Nicholas Nickleby is a radio serial by Mike Walker and Georgette Prichard, based on the novel by Charles Dickens. It was first broadcast on BBC Radio from 25 October until 3 December,1999 as 30 15-minute episodes as part of Women's Hour Drama. Later broadcasts edited the episodes into six 70-minute episodes.
Plot
The Life and Adventures of Nicholas Nickleby, (or Nicholas Nickleby for short) is a comic novel by Charles Dickens. Originally published as a serial from 1838 to 1839, it was Dickens' third novel. It is the story of the Nicklebys (Nicholas, his mother and his sister Kate) who have been left penniless by the death of Mr Nickleby. Their fate is influenced by his evil brother Ralph.
Cast
Charles Dickens -

Alex Jennings

Nicholas Nickleby -

Oliver Milburn

Ralph Nickelby -

Richard Johnson

Mrs. Nickleby -

Anna Massey

Kate -

Nicola Ratcliffe

Newman Noggs -

Bruce Alexander

Mr. Mantalini -

David Bamber

Mde. Mantalini -

Hetty Baynes

Miss Knagg -

Becky Hindley

Sir Mulberry Hawk -

Jeremy Clyde

Lord Verisopht -

Jamie Bamber

Mr.Snawley & Mr.Brooker -

Ioan Meredith

Miss La Creevy -

Janine Duvitsky

Fanny -

Sophie Thompson

Vincent Crummles -

Tom Baker

Mr. Squeers -

Ken Campbell

Mrs. Squeers -

Maggie McCarthy

Charles & Ned Cheeryble - Nigel Anthony
Smike -

Raymond Pickard

John Browdie -

Gareth Cork

Tilda Browdie -

Tilly Gaunt

Madeline Bray -

Michelle Wesson

Mr.Bray - John Rowe
Arthur Gride -

Timothy Bateson

Peg Sliderskew -

Edna Dore
with
-

Ben Crow

-

Tracy Wiles

-

Fiona Clarke
Directed by Jeremy Mortimer and Marilyn Imrie
Critical Reception
Won the 1999 Voice of the Listener and Viewer (VLV) award for best dramatic adaptation.
References