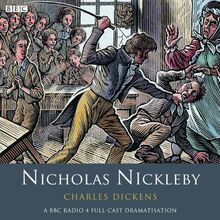 Nicholas Nickleby is a radio serial by Mike Walker and Georgette Prichard, based on the novel by Charles Dickens. It was first broadcast on BBC Radio from 25 October until 3 December,1999 as 30 15-minute episodes as part of Women's Hour Drama. Later broadcasts edited the episodes into six 70-minute episodes.
The Life and Adventures of Nicholas Nickleby, (or Nicholas Nickleby for short) is a comic novel by Charles Dickens. Originally published as a serial from 1838 to 1839, it was Dickens' third novel. It is the story of the Nicklebys (Nicholas, his mother and his sister Kate) who have been left penniless by the death of Mr Nickleby. Their fate is influenced by his evil brother Ralph.
with
Directed by Jeremy Mortimer and Marilyn Imrie
Critical Reception
Edit
Won the 1999 Voice of the Listener and Viewer (VLV) award for best dramatic adaptation.
References
Edit