We're Getting Mutants in the MCU - The Loop
Play Sound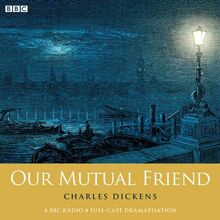 Our Mutual Friend by Charles Dickens
Dramatized by Mike Walker
Directed by Jeremy Mortimer and Jessica Dromgoole
Music by Roger Goula
BBC Radio 4 - Womans Hour Drama
20 x 15mins episodes broadcast from 09.11.2009 to 04.12.2009
An evocative dramatization of the Dickens classic.
Episodes
Episode 01 09.11.2009 A father and daughter on the Thames at night, and tied to their boat a lifeless shape bobs in the water.
Episode 02 10.11.2009 How old John Harmon made his money out of rubbish, and the will he left to spite his son.
Episode 03 11.11.2009 With young John Harmon presumed drowned, the Boffins have inherited old Harmon's fortune.
Episode 04 12.11.2009 Silas Wegg, a literary man with a wooden leg, finds employment with the Golden Dustman.
Episode 05 13.11.2009 There is a rumour on the river that Gaffer Hexam might have had a hand in John Harmon's death.
Episode 06 16.11.2009 Bella Wilfer, whose life has become decidedly more comfortable, confides in her father.
Episode 07 17.11.2009 A new life for Lizzie Hexam, a new mentor for Charlie, and new complications.
Episode 08 18.11.2009 Wegg comes to an agreement with Venus, as Bradley tries to do likewise with Eugene Wrayburn.
Episode 09 19.11.2009 John Rokesmith sets about straightening his very untidy life.
Episode 10 20.11.2009 Bradley Headstone has a very clear picture of his future, and enlists Charlie Hexam to help him achieve it.
Episode 11 23.11.2009 Bella visits her parents and tries her hand at cooking, with mixed results.
Episode 12 24.11.2009 Rogue Riderhood comes face to face with fate on a dark Thames night.
Episode 13 25.11.2009 Silas Wegg is determined to find a copy of old Harmon's will.
Episode 14 26.11.2009 Lizzie Hexam and Bella Wilfer meet at last, at a funeral in a country churchyard.
Episode 15 27.11.2009 Impetuous and headstrong Bella Wilfer finally takes a stand.
Episode 16 30.11.2009 Eugene heads upstream looking for Lizzie, unaware of the man in the shadows. Boffin, meanwhile, has an appointment with Wegg.
Episode 17 01.12.2009 Eugene finds Lizzie, but it looks as if John may have lost Bella.
Episode 18 02.12.2009 Two declarations of love that couldn't be more different, as John, Bella, Eugene and Lizzie's streams cross.
Episode 19 03.12.2009 Charlie visits Bradley for the last time, and Mortimer Lightwood meets John Rokesmith for what should be the first.
Episode 20 04.12.2009 Truths that seemed drowned finally come to the surface.
Critical Reception
References