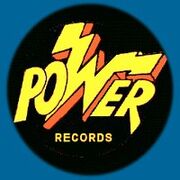 Peter Pan Records was a children's record company that was created as one of several labels operated by a company called Synthetic Plastics. In the 1970s they produced dozens of children's audio drama stories featuring licensed characters such as Superman, Batman, Spider-Man, the Lone Ranger, Star Trek, and many others. Most of these were produced on their Power Records label, but later on the main Peter Pan label as well. Their voice casts were never credited, but in later years were revealed to have included several former radio actors - Elliott Lewis, for instance - as well as then-contemporary animation voice actors - such as Peter Fernandez (Speed Racer).
Most of Power/Peter Pan's productions were full-cast audio dramas featuring a mixture of original stories and, in the case of properties licensed from TV or film, adaptations. As with the voice actors, the writers of original content were usually uncredited, though a few are known, such as Star Trek novelist Alan Dean Foster, who wrote most of the Trek stories for Peter Pan. Many were released with comic books illustrating the stories with art by well-known artists such as Neal Adams; in the case of adaptations of previously published comics (such as the first issue of Fantastic Four, "The Way it Began"), an edited version of the original comic book was used.
Despite being a children's audio company, Peter Pan/Power also produced stories for older listeners, such as a set of violent stories based upon the police drama Kojak.
Peter Pan's success led to other companies attempting to produce audio dramas based on other licenced works. For example, in 1976 Wonderland Records, a label known primarily for children's music, released one-off albums of audio stories based upon The Bionic Woman and the gritty detective series, Baretta.
External Links