We're Getting Mutants in the MCU - The Loop
Play Sound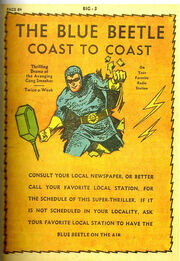 The Blue Beetle was an old time radio show based on the super hero character that appeared in Fox Features comic books. The series ran from May 15 - September 13, 1940.
The Blue Beetle first appeared in the Fox Features comic book Mystery Men #1, dated August 1939. Created by Charles Nicholas, the character of Patrolman Dan Garret gained superhuman powers with the use of the "2X" formula and fought crime as the Blue Beetle. The character proved popular enough that he was spun-off into a newspaper strip and, in 1940, a radio show.
The radio show aired twice a week. Frank Lovejoy originally played the hero, but was later replaced with an uncredited actor. Each adventure was split into two 15 minute episodes. Initially, both parts of an adventure were aired in the same day, apparently putting the show in a 30 minute time slot, airing two two-part stories per week. Later in the run, it was only given a 15 minute slot, so one two-part story aired each week.
Cast
Frank Lovejoy

as Dan Garret/The Blue Beetle (episodes 1-13)
Episode Log
40/05/15 1-2 Smashing The Dope Ring - Parts 1 and 2
40/05/17 3-4 Sabotage and Liquidation - Parts 1 and 2
40/05/22 5-6 Murder for Profit Parts - Parts 1 and 2
40/05/24 7-8 Blasting the Dynamite Gang - Parts 1 and 2
40/05/29 9-10 Invisible Ghost Parts - Parts 1 and 2
40/05/31 11-12 Death Rides on Horseback - Parts 1 and 2
40/06/05 13-14 Death Strikes from the East - Parts 1 and 2
40/06/07 15-16 Sea Serpent - Parts 1 and 2
40/06/12 17-18 Frame-Up - Parts 1 and 2
40/06/14 19-20 Spirits Don't Talk - Parts 1 and 2
40/06/19 21-22 Thoroughbreds Always Come Through - Parts 1 and 2
40/06/21 23-24 Smashing the Arson Ring - Parts 1 and 2
40/06/26 25 Rounding up the Payroll Bandits - Part 1
40/06/28 26 Rounding Up The Payroll Bandits - Part 2
40/07/03 27 Crime Incorporated - Part 1
40/07/05 28 Crime Incorporated - Part 2
40/07/10 29 Saved by a Hair - Part 1
40/07/12 30 Saved By A Hair - Part 2
40/07/17 31 Finesse in Diamonds - Part 1
40/07/19 32 Finesse In Diamonds - Part 2
40/07/24 33 Sabotage Incorporated - Part 1
40/07/26 34 Sabotage, Incorporated - Part 2
40/07/31 35 Smashing the Restaurant Racket - Part 1
40/08/02 36 Smashing The Restaurant Racket - Part 2
40/08/07 37 Two Rackets in One - Part 1
40/08/09 38 Two Rackets In One - Part 2
40/08/14 39 Underground Goes Underground - Part 1
40/08/16 40 The Underground Goes Underground - Part 2
40/08/21 41 The Dancing Ghost of Rocking Hill - Part 1
40/08/23 42 The Dancing Ghost Of Rocking Hill - Part 2
40/08/28 43 Whale of Pirates Folly - Part 1
40/08/30 44 Whale Of Pirates Folly - Part 2
40/09/04 45 Asylum of Doctor Drear - Part 1
40/09/06 46 Asylum Of Doctor Drear - Part 2
40/09/11 47 Jewel Mystery of Channel Island - Part 1
40/09/13 48 Jewel Mystery Of Channel Island - Part 2
External Links