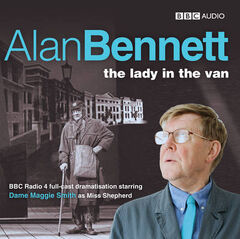 The Lady in the Van by Alan Bennett
Adapted and Directed by Gordon House
Music composed by Simon Morecroft
BBC Radio 4 - Saturday Play - 21.02.2009
The Lady in the Van is the first radio production of Alan Bennett's autobiographical stage play, starring Alan Bennett himself as one of the two "Alan Bennetts" featured in the drama, and reprising the brilliant stage performance of Dame Maggie Smith as Miss Mary Shepherd, the lady who takes refuge in his Camden garden for three months, and ends up staying fifteen years.
External links
Edit
Critical Reception
Edit
The Lady in the Van (Radio 4, Saturday afternoon) Alan Bennett's play, a characteristic brew of mild and bitter, was about something that really happened to him. An old lady, Miss Shepherd, lived in an immobile van in his road, a ritzy London crescent where so many clever young things of the 1960s lived that one of them, the late Mark Boxer, turned it into a comic strip. No one really wanted to look out for Miss Shepherd but, bit by bit, she turned herself into Bennett's responsibility. Played by Maggie Smith, who captured her every infuriating nuance, you could almost smell her, not an easy thing for radio to manage but, between Bennett's brilliant description, Adrian Scarborough's clever alter-Bennett, Smith's great performance, and Gordon House's sensitive direction, it did. --------- ('' Gillian Reynolds - The Telegraph)
References
Edit
Community content is available under
CC-BY-SA
unless otherwise noted.