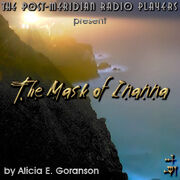 The Mask of Inanna is a nine-part audio drama written and directed by US-based writer Alicia E. Goranson. It won a Parsec Award.
"A mystery, horror and action-adventure show"
Leonard Allen, host of a 1950's radio horror show, is taken out of retirement by a mysterious organization to finish broadcasting the unaired episodes over a pirate radio station based out of a New England lighthouse. It features two shows in one - the story of Leonard Allen's involvement with two strange pagan communities and the "original" episodes from Allen's "After Dark" 1950's horror radio show.
Written and produced by Lambda Literary Finalist Alicia E. Goranson, The Mask of Inanna was created by Neil Marsh and performed by The Post-Meridian Radio Players. It has been praised for its originality and quality of production.
Modern Day Cast:
1950's Cast:
In 2010, The Mask of Inanna was a finalist for the Best Horror Audio Drama of 2010, as part of the 4th Annual Splatcademy Awards.
The show was winner of the 2012 Parsec Award for "Best Speculative Fiction Audio Drama (Long Form)".
Community content is available under
CC-BY-SA
unless otherwise noted.