We're Getting Mutants in the MCU - The Loop
Play Sound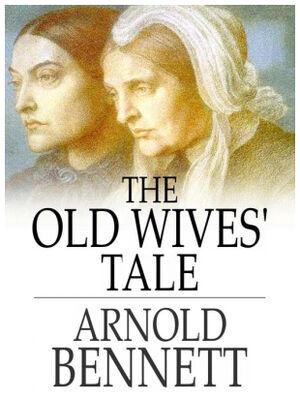 The Old Wives' Tale by Arnold Bennett
Dramatized by Stephen Wyatt
Directed by Claire Grove
BBC Radio 4 - Womans Hour Drama - 19.01.2004
15 x 15mins episodes
Episodes
Episode 01 - The Tooth - 19.01.2004 - Sisters Sophia and Constance grow up above a thriving drapery business in the Potteries in the 1860's. Shop assistant Sam Povey has toothache.
Episode 02 - A Battle - 20.01.2004 - It is time for Constance and Sophia to leave school but Sophia has ambitions beyond the family shop.
Episode 03 - Elephant - 21.01.2004 - While all of Bursley rush to see a dead elephant, Sophia stays at home with her invalid father and meets an admirer.
Episode 04 - The Traveller - 22.01.2004 - At New Year salesman Gerald Scales arrives on the Baines' door step in the snow.
Episode 05 - The Defeat - 23.01.2004 - Mrs Baines decides to put a stop to Sophia's affair with Gerald Scales.
Episode 06 - The Elopement - 26.01.2004 - Sophia escapes to London with her lover, travelling salesman Gerald Scales.
Episode 07 - Crime - 27.01.2004 - Constance and Sam, now married, receive a cryptic CHRISTMAS card from the exiled Sophia.
Episode 08 - Crisis - 28.01.2004 - After four years in Paris, Gerald has spent his inheritance. His marriage to Sophia is on the rocks.
Episode 09 - Justice - 29.01.2004 - Constance is anxious about her husband Samuel's health, as he campaigns relentlessly for the release of his imprisoned cousin, Daniel.
Episode 11 - The Proudest Mother - 02.02.2004 - 1889, Bursley. Constance, now in her late 40's lives for her 19 yr old son, Cyril but he has alarming news.
Episode 12 - Frensham's - 03.02.2004 - 1895, PARIS. Sophia is the successful proprietor of a smart hotel when Constance is told of her whereabouts. The two long lost sisters correspond at last.
Episode 13 - The meeting - 04.02.2004 - Constance and Sophia are at long last re-united but Sophia soon feels stifled by Bursley.
Episode 14 - Hotel Life - 05.02.2004 - Sophia persuades a very reluctant Constance to holiday with her in a hotel in Buxton. On their return to Bursley Sophia receives alarming news about her estranged husband, Gerald Scales.
Episode 15 - Endings - 06.02.2004 - Sophia visits her dying husband which precipitates her own tragic ending, leaving Constance to carry on alone.
Cast
Amy =

Lydia Leonard

Auctioneer/Guard =

Declan Wilson

Aunt Harriet =

Frances Jeater

Chirac =

Tom Smith

Constance =

Gillian Kearney

Constance =

Marcia Warren

Cyril =

Jim Pyke

Dr Stirling =

Andrew Harrison

Englishman =

Chris Moran

Foucault =

Rachel Atkins

Gerald Scales =

Nicholas Boulton

Lewis Mardon = John Rowe
Maria Critchlow =

Rachel Atkins

Maria Inshull =

Rachel Atkins

Mary =

Jaimi Barbakoff

Matthew Peel-Swynnerton =

Carl Prekopp

Miss Chetwynd =

Rachel Atkins

Mr Baines = John Rowe
Mr Bodero =

Declan Wilson

Mr Critchlow = Stephen Critchlow
Mr Povey =

Ian Dunn

Mrs Baines =

Barbara Marten

Saleswoman =

Rachel Atkins

Samuel Povey =

Ian Dunn

Sophia =

Katy Cavanagh

Sophia =

Penelope Wilton

The Narrator =

Philip Jackson
Critical Reception
References